Cherry chip, tiny Titan.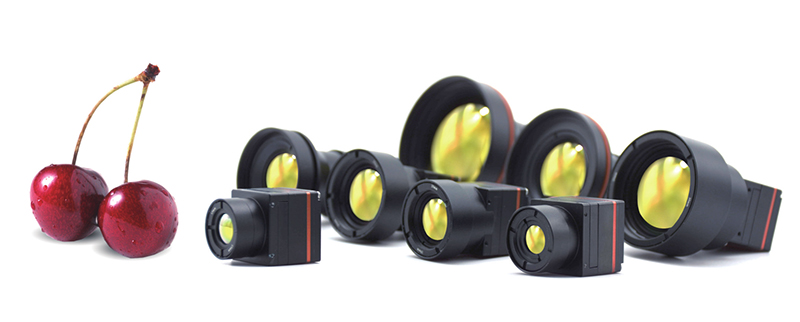 InfiRay® Micro Ⅲ module has compact size, light weight, low power consumption,
rich data interface, comprehensive analysis function.
It is easy to use and integrate, saving both time and effort.
It can provide a brand new solution for thermal sensing products of various industries,
thanks to its easy-to-use, professional, and comprehensive functions.

Module
Temperature Measuring
Micro Ⅲ 384T
Micro Ⅲ 640T
Performance Specification
Detector
VOx uncooled thermal FPA
Resolution
384×288
640×512
Pixel Pitch
12μm
Detector Frame Rate
50Hz
25Hz
Spectral Band
8~14μm
NETD
≤50mK@25℃
Thermal Image
Brightness and Contrast
Manual/Auto
Color Palettes
Optinal (14 species)
Reticle
Display/Fade/Move(Support for Customization)
Palette
Upto 18 palettes
Zoom
1.0~8.0× Digital Zooming (0.1×Step)
Image Filter
Digital Noise Reduction / Digital Detail Enhancement
Power Supply
Power Supply
4~6V DC
Over voltage, Under voltage, Reverse connection protection(with user extension component)
Power Protection
Expansion board support over voltage, under voltage and reverse (Supported on expansion board)
Typical Power Consumption
@25℃
Without User Extension Component
0.9W
1W
With User Extension Component
1.1W
1.2W
Connection Interface
Video Output
Analog Video
1 channel PAL or NTSC
Digital Video
BT.656/14-bit or 8-bit LVCMOS/LVDS/MIPI/CameraLink
Serial Port
RS-232/UART(3.3V)
USB3.0
5V Typical,Image and Temperature data transmission, device control
Temperature Measurement
Measurement Range
-20℃~+150℃,-20~+550℃
Measurement Accuracy (1)
±0.3℃ or ± 3% of Reading (Take Lager)@ Environment Temperature-20℃~+60℃
Measurement Tools
10 spots / Max & Min temp on Screen/ Center spot/12Lines/ Area Analysis/1 Isothermal Analysis
SDK
Customiztion Support
User Language/Crosshair Customiztion
SDK
Support
Physical Character
Weight
20g±3g(without lens & user extension component
Size
26mm×26mm×22mm (Without lens and expansion board)
Environmental Adaption
Operating Temp
-40℃~+80℃
Storage Temp
-45℃~+85℃
Humidity
5~95%,non-condensing
Vibration
Random vibration, all the axes
Shock
80g,4ms,back peak, sawtooth wave, 3-axis and 6-direction
Compliance
RoHS2.0
Yes
CE
Yes
The data above are for reference only. Specifications in the marketed products shall prevail.